This guide will help you get to know the city of Porto and show you the main reasons why the Portuguese city is the right place to find your new home.
Porto is the second largest city in Portugal. It's full of opportunities, tourism, history, and traditions, and it is increasingly chosen as the place to live by many expats who decided to move and work in the country. But what makes it so special?
Let's explore how it is to live in Porto: tips on how to find a house, where to look for it, and what kind of costs you can expect to live in the 'Invicta' city.
How is it to live in Porto?

Living in Porto is like having a new experience every day. Porto is a city for everyone, no matter your preferences, possibilities, and lifestyle. There are areas full of life all day and night – as if people don't even sleep – and there are other areas in which peace and serenity reign.
Tourism is a strong activity and the streets are always filled with people, who visit all the historical corners that the city holds. The typical 'Portuenses' – the inhabitants of Porto – are affable people and always ready to help with a smile on their faces. They can be a bit difficult to understand, even if you know the Portuguese language because they exchange the "Vs" for "Bs", but sympathy is always present.
Security
According to the 2022 Global Peace Index, Portugal is the 6th most peaceful country in the world. This translates into its high level of security. Porto is generally a safe city, however, like any other busy city, requires some care on specific occasions.
Usually walking alone is quite safe. As the city has a very active nightlife, there is always someone on the street regardless of the hours. In addition, crime levels in 'Invicta' are low and most crimes that may happen are rarely violent.
However, some precautions should be taken when exploring the city that involves not walking with a lot of money or valuables, especially in areas with a lot of tourism – there's a higher probability of pickpockets in these places.
Public transport is also extremely safe, however, when the number of passengers using it decreases, it's advisable to observe who is inside and choose a seat near trust-looking passengers.
Climate
No matter where in the world you come from you'll find out that Porto has a very mild climate – summers are not very hot and winters are not very cold. The average temperatures vary between 6ºC and 24ºC throughout the year.
Even on the hottest days one hardly leaves home without a sweater, a coat, or something to wrap around. The moment the sun sets, the chilly night weather sets in.
In contrast, not even the coldest or rainy days scare the typical 'Portuense'. In the middle of winter the bars, clubs, and even the streets are still full of life! The nightlife of 'Invicta' is really worth it.
Life in Porto
Life in Porto is truly rich in every aspect. This city is full of history, culture, and good energy. From bars to museums, and festivals to beautiful gardens, Porto offers endless activities for all tastes. Check out some of the most emblematic places of 'Invicta':
Casa da Música – House of Music;
Serralves – Contemporary Art Museum;
Porto Coliseum;
Majestic Cafe;
Lello Bookshop;
D. Luís I Bridge;
City Park;
Galerias de Paris Street.
And nothing beats Saint John's festivities. The city comes alive with street decorations, and families and friends who go out to party, dance and eat. The sardines are roasted in the street, the skies are covered with Saint John's balloons and fireworks, and everyone has fun using traditional hammers or leeks.
Where to find a house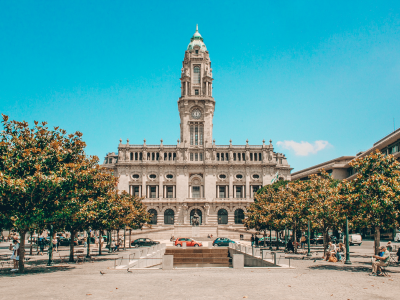 There are many useful tools that can help you find a home in Porto, from Facebook groups to real estate agencies. It's a good idea to stay in an Airbnb before renting an apartment or house permanently because it is safer if you know the property and the owners before closing the deal.
There are several real estate websites that daily update their arsenal of houses and apartments ready for rent. Here are some of the most popular real estate agencies in Porto:
Remax
ERA
Century21
Keller Williams (KW)
Imovirtual
Any of these services will be very useful when looking for your next home in Porto. You can search for and book visits to the properties yourself or you can also ask for the help of real estate agents, who will help you find the ideal place according to your desire.
However, some owners often try to find tenants privately, through platforms such as Facebook, OLX, and CustoJusto. Consider that, without the real estate commission, your rent will most likely become cheaper.
Considering the Best Locations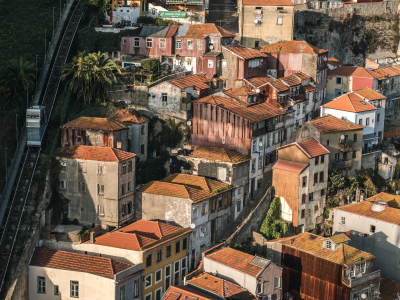 Now that you know how to find a home in Porto, you have to consider the costs of living in it and the different places where you can move to. It's important to analyze your financial condition, the type of life you live, and your tastes so that you can make a good choice.
There are many different places to live in Porto. Fortunately, they are all safe and offer good access to public transport. What really varies in these places is the cost of living.
City Centre
If you want to live where the city is alive and all the action happens, you can choose neighbourhoods like Santo Ildefonso, Cedofeita, and Boavista. These places are quite busy, with tourist attractions, and important public transport stations. Still close to the centre, but quieter, there are neighbourhoods like Batalha, Bonfim, Marquês, Lapa, Constituição, and Miragaia. 
Outside City Centre
Further from the centre you can find more affordable opportunities and diverse environments. In Salgueiros and Paranhos there is a student atmosphere, while Ramalde, Viso and Francos are more industrial areas, and there is also Senhora da Hora which is quite pleasant and located next to NorteShopping, the largest shopping centre in Porto.
Luxury Areas
For those with better financial conditions, the noblest areas of the city are by the sea, next to the Douro river, and in the City Park. These neighbourhoods are Foz do Douro, Massarelos, and Matosinhos.
Matosinhos, in particular, is very close to the sea and has excellent access to the centre of Porto. Both by bus and metro, you can be right in the city centre in about 30 minutes. 
Outskirts of Porto
On the other side of the 6 bridges of Porto is the city of Vila Nova de Gaia. Here the cost of living is slightly lower and many foreigners who work in Porto choose it as a destination. It has an excellent network of public transport that greatly facilitates the movement to the 'Invicta', whether by subway, train, bus or transfers.
Other cities near Porto can be taken into account including Valongo, Gondomar, and Póvoa do Varzim. Such as the city of Gaia, these places are much cheaper for those looking to save some money.
From São Bento's train station you can get to Valongo's city centre in 25 minutes. Gondomar has easy access by subway – the F line connects the Trindade Station to Fânzeres (a city in Gondomar) also in just 25 minutes.
Póvoa do Varzim is further away, about 50 minutes from Porto. However, there is a subway line (B line) that connects this city directly to Trindade Station. The standard of living in this city is very good and the costs are quite low. Located near Vila do Conde, Póvoa has excellent beaches for those who like to feel on holiday all year round.
Prices
Considering that Porto is the second largest city in Portugal, the cost of living is high. However, it is much more affordable than the country's capital, Lisbon. In addition, it's possible to find good places to live in Porto without spending a lot of money, if you choose peripheral zones or adjacent cities.
The average cost to rent a one-room apartment (T1) in the centre of Porto is approximately 711.41€. Outside the centre, this value drops to 556.76 €. If you prefer to live in the less hectic places, in a city near Porto, such as Vila Nova de Gaia, the rental value can be reduced to 450.00€ for a T1.
To these values, we must add the cost of personal life. On average, the cost of living for a single person in Porto is around 572.44€ per month. This includes expenses related to transportation, gyms, and other leisure expenses. Of course, this value can easily vary according to the possibilities and habits of each person.
How to Find a House in Porto: Final Thoughts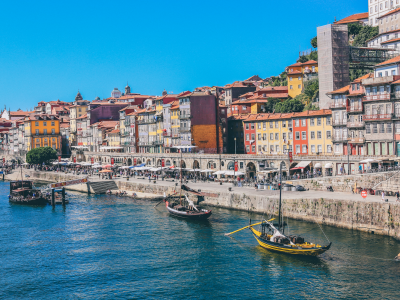 Living in Porto – whether for a short time or for the rest of your life – it's an experience you'll never forget! Although it might seem a little expensive, it's possible to find accessible and still very well located places in Porto. In addition, this beautiful city is a source of culture, history, and quality of life.
Porto is a safe city with a mild climate that adapts to everyone's lifestyle. Whether you enjoy the calm and quiet of the outskirts or the bustle of the centre, you will easily find a place where you'll feel at home.
If you are ready for a new adventure in Portugal, KWAN can help you throughout the process. Check out all of our opportunities and get ready for a new start!